Our Programs
Assisting Victims of Violence
Support for Bryan Stow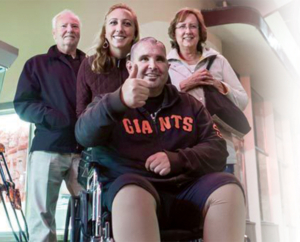 Many remember the happenings on Major League Baseball's Opening Day in 2011. Giants fans filed into the Chavez Ravine parking lot having suffered a tight 2-1 loss at the hands of their biggest rival, the Dodgers. Coming off their first World Series Championship in several decades, Giants fans held their heads high that day, donned their favorite orange and black attire, and cheered as loud as if they were in the friendly confines of ATT Park. Thinking back, it could be just those factors that ultimately lead to a horrific turn of events, striking the chords of baseball fans and human beings everywhere.
Bryan Stow is your normal Giants fan. He loves his team, he wears his gear and cheers for the San Francisco Giants no matter the score or the locale. For those reasons, one might surmise, gave a group of Dodger faithful the impetus to beat him savagely and without compromise, almost to his death. The Dodgers/Giants rivalry is arguably the most electric in baseball, stemming from their shared tenancy in New York many moons ago. But, the injuries sustained by Bryan Stow on that tragic day speak to a much larger and systemic problem; a problem that Tim Flannery has since made his personal crusade to solve.
From the Bryan Stow tragedy emerged The Love Harder Project. Through music and other philanthropic motions, Tim Flannery has raised over $300K to support the Stow family, cover a mountain of medical and rehabilitation bills and help make the Stow residence more suitable for a life nearly taken out of hatred and bullying. More importantly, one could argue, is that Tim's efforts for Bryan before the inception of The Love Harder Project actually kept Stow's situation in current news cycles and ensured that this story will not be swept under the rug, but rather remain in the forefronts of our hearts and minds. Currently, The Love Harder Project finances Bryan Stow's national speaking tour as he now gives back by denouncing hatred, bullying, and acts of violence.
Buddy Benches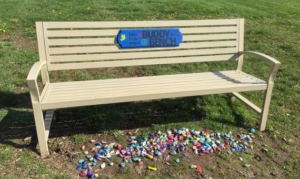 In 2017, the Love Harder Project made a donation to the Erlnanger-Elsmere School district in Kentucky to fund a series of buddy benches. Working alongside Sean Casey, former Cincinnati Reds first baseman, we donated a bench to each of the four elementary schools in the district. Each school decorated the bench based on the students' interpretation of what "Love Harder" meant to them. The buddy benches would serve as a place where everyone was welcome and could make a new friend.
Benches included notes of friendship, friendship bracelets, encouraging artwork, and a painted rock garden. Through our work, we hope to be able to offer additional opportunities to our community schools to provide safe places such a buddy benches for more students.